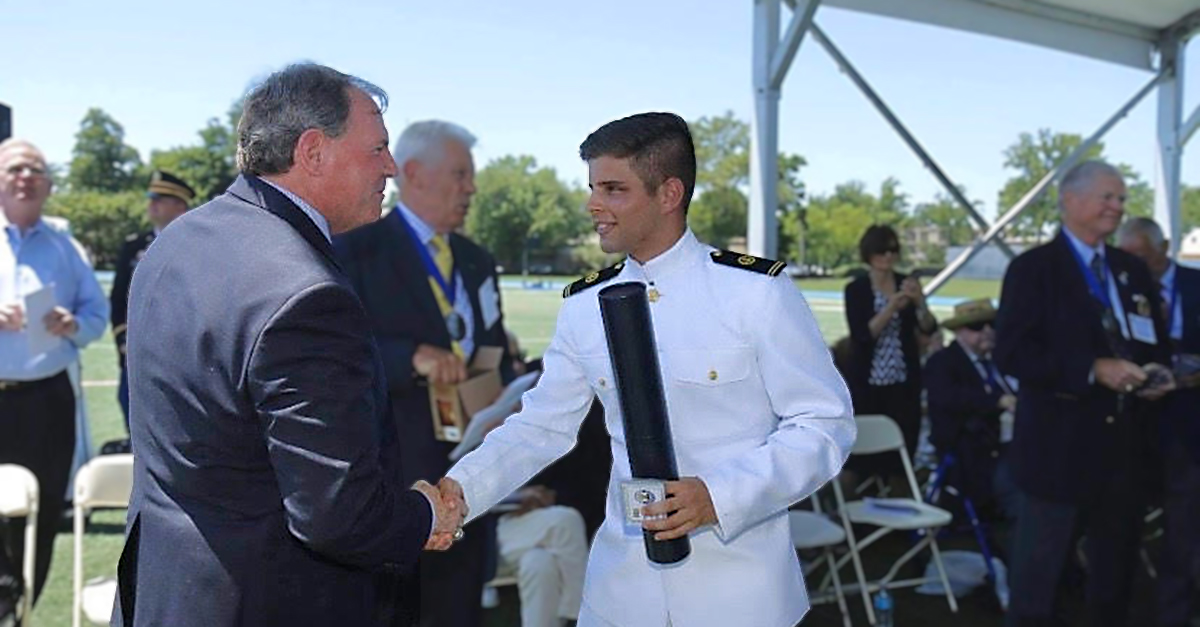 A Merchant Marine Joins the Horizon Team
Some sound advice from his dad and a weekend call from his Congresswoman set Travis Feinberg on a bearing that would take him to major ports all around the world. One of the newest members of the Horizon team, he now applies his expertise in maritime logistics, operations, and safety to keeping our customers sailing safely and on schedule.
A Call From His Congresswoman Sets a New Course
"When I was in high school, my dad mentioned to me that he was supposed to go to the United States Merchant Marine Academy," says Feinberg, "but he didn't follow up on the things that he needed to do to actually attend. And he said that if I didn't at least try, I would be selling myself short."
Feinberg had always found comfort and solace on the water, but he was drawn even more by the opportunity to travel. "I wanted to explore other countries," he says, "and broaden my perspective on the world."
So he did all the hard work of applying to the academy. "The next thing I knew," he says, "my Congresswoman [Representative Carolyn McCarthy] was calling me on a weekend to tell me, 'Hey Travis, just want to let you know: you've been accepted to the United States Merchant Marine Academy.'"
Inspired to Excel at the Merchant Marine Academy
Feinberg entered the Merchant Marine Academy at Kings Point in the summer of 2012. Good grades had come easily to him in high school, but he soon realized that, for the first time in his life, he was going to have to push himself.
"I looked around and saw students who were way more diligent than I was," he said. "I thought, 'Wow, look how much studying they're doing. Perhaps I should follow suit.'"
He dove into his studies with a passion, taking 176 credits (the typical bachelors degree is about 130 credits) and earning two awards for academic excellence along the way. "I learned very quickly how to deal with a full plate," he says.
Four years later, he graduated with a Bachelor of Science degree in logistics, materials, and supply chain management. He also earned his U.S Coast Guard Third Mate Unlimited Tonnage license and was commissioned into the U.S. Navy Reserve as an ensign.
For all his academic accomplishments, though, he gives the greatest credit to his fellow students for inspiring him.
"Surrounding yourself with people who lift you up or make you want to be better," says Feinberg, "is probably the greatest thing you can do for your own personal development."
Sailing with Crowley Maritime
Fresh out of the Merchant Marine Academy, Feinberg accepted a position with Crowley Maritime as Third Mate on the Ocean Glory, a heavy-lift tramp vessel and then the National Glory, a container vessel. He would spend the next nearly four years sailing all over the world.
"There were two kinds of days," he says, "at sea days and port days."
On sea days, he would stand two four-hour navigational watches and spend another four hours ensuring that all fire safety, lifesaving equipment, and other key operational systems were in good condition and met all federal guidelines.
On port days, cargo was king, and Feinberg would spend his 12-hour days overseeing the loading and unloading of cargo. He was the main point of contact with shoreside crew and responsible for the safety of all cargo operations.
He worked hard, long days, but he liked the challenges and developed a strong work ethic.
In 2018, the National Glory's crew was named International Crew of the Year by Safety at Sea International magazine for their courageous work delivering relief supplies to Puerto Rico in the aftermath of Hurricane Maria, navigating their ship safely around three other hurricanes along the way.
The Lessons of Other Nations
Feinberg visited about 30 countries during his time with Crowley, and, as he had hoped, the people he met there broadened his perspective, teaching him gratitude, humility, and the importance of friends and family.
"There was this boy in Bangladesh," he says. "he was literally playing with rocks just to pass the time."
The boy didn't speak English and Feinberg didn't speak Bengali, but he noticed the boy was wearing a Lionel Messi jersey. Feinberg had competed in soccer in school and still plays it recreationally today, so he knew the world-famous captain of the Argentinian national team.
Despite the language barrier, he was able to communicate to the boy that he liked soccer and was a fan of Messi too. "The smile on his face… it was like the greatest thing to him and it truly made his day, and so it made mine too. Such a simple thing made him so happy."
Another time, in South Korea, Feinberg and some of his friends went to dinner at a local restaurant. "It was the kind of place where they cook the meat in front of you," he says, and the owner struck up a conversation with them as their meal was prepared.
Later, the owner invited them to come with him to another restaurant he also owned, just down the street, telling them they could drink for free. They accepted the offer, and they all kept up the conversation late into the night. Later, the owner hailed a cab, paid the fare, spoke to the driver for them, and made sure they were safely on their way.
"Hospitality means something different there," he says. "Here I was, eating and drinking for free, just because the guy who ran the restaurant took a liking to me and my friends."
Joining the Horizon Team
For all that he loved about sailing, the months at a time away from family and friends began to wear on Feinberg.
"I was living my life three months at a time," he says. "I'd head out to sea thinking, 'Oh, I just can't wait to get back home to be with my family, friends, girlfriend, dogs… And I was missing out on so much: holidays, my birthday, celebrating my girlfriend's promotion. If you miss out on the big things, you're missing out on everything."
So he reached out to Horizon, where he had completed an internship while at the Merchant Marine Academy. Soon after, CEO Steve Leondis offered him a job.
"Everybody at Horizon works so hard," he says. "I kind of fit right in. But it's also very familial. I was so warmly accepted, right away."
Once again, he found himself surrounded by people who inspired him to do better every day.
"There's not an ounce of clock-watching—everyone enjoys being in the office" he says. "We work hard, but there's never any tension or drama. It's a very team-oriented atmosphere, and everybody's rowing in the same direction."
The other people who have lifted him up along the way are still part of his daily interactions. Fellow students from Kings Point work with all the major maritime shipping companies, so Feinberg often finds himself collaborating with them to serve their marine logistics needs. And Crowley is a Horizon customer, so he is regularly in touch with his former crewmates, still working every day to keep their ships safe and their operations running smoothly.
"There's no better feeling than being valuable and making a real contribution," he says. "We want to grow so much at Horizon. We want to do better and be better, and that makes it exciting to show up every day."
https://www.haf.com/wp-content/uploads/2020/06/TFeinberg.jpg
627
1200
Lizzi Skipper
https://www.haf.com/wp-content/uploads/2020/05/logo-horizon.png
Lizzi Skipper
2020-06-30 08:58:00
2020-06-30 12:56:57
Employee Spotlight: Travis Feinberg