Moving a 100-Ton Gearbox From Japan to South Korea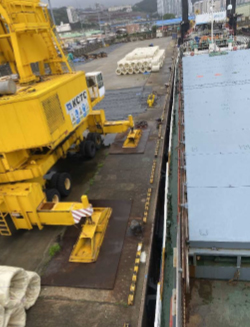 We sweat the small stuff every day at Horizon Air Freight, but the big stuff sometimes makes for the most interesting challenges. Like the 90,000-kilo lower gearbox that one of our customers needed moved from a remote area of Japan to a shipyard in South Korea, where an offshore tug supply ship was being overhauled.
Senior Routing Manager Bridget Aglio took the call.
"They had a total of ten pieces," she says, "and the entire shipment was 125,000 kilos. The other pieces weren't as big, but they had weight to them. Some, like the propellers, were also oversized."
Most of this was just another day at the office for Mrs. Aglio and her routing specialists, but moving the lower gearbox was going to take some ingenuity… and the client needed it delivered in less than two weeks to avoid thousands of dollars in added shipyard fees.
Mrs. Aglio got to work.
Moving an Oversized Load Through Japan to a Chartered Bulk Carrier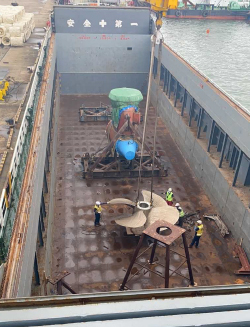 "With an oversized load of 275,000 pounds, we needed permits and licenses just to go over the road to the port in Japan," says Mrs. Aglio, "as well as escorts in Japan." She put in requests for all the necessary permissions immediately after she got the customer call.
The gearbox was also too large — and the need too urgent — to ship via any scheduled steamship lines. Instead, Mrs. Aglio chartered an entire bulk carrier ship for the job.
A few days later, with all the arrangements in place, Horizon picked up the order, drove it to the port in Japan, and transferred it via crane onto the waiting bulk carrier. The ship soon set sail for South Korea.
But a complication awaited on the other end of the journey.
Too Big for South Korean Roads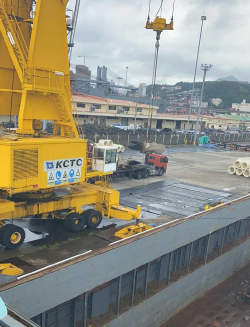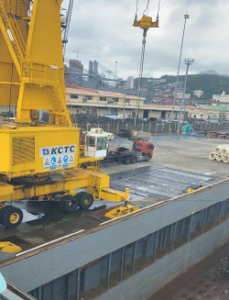 The gearbox exceeded the weight limits allowed on South Korean roads, even with oversized load permits and protections. The other nine parts could be unloaded at port and driven from there to the shipyard — with all the permits, licenses, and escorts Horizon had arranged — but for the gearbox, Mrs. Aglio had to find another way.
So when the bulk carrier made port in South Korea, Horizon had a chartered barge waiting. A crane transferred the gearbox directly from the bulk carrier to the barge, then the barge sailed to the shipyard, where another crane delivered it directly to the waiting ship.
From customer request to delivery to the shipyard, the full 125,000-kilo shipment was completed in just 10 days.
"It all went very smoothly. No damages, no delays, no fines."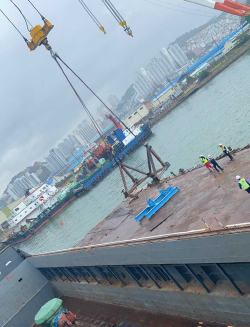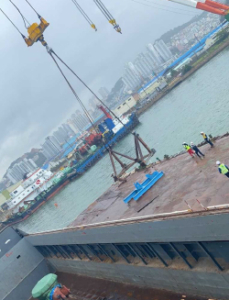 With all the necessary parts delivered on time, the overhaul stayed on schedule. The offshore tug supply ship was soon shipshape and sailing again.
Do you need an oversized part moved quickly to keep an overhaul or repair on-schedule? Contact us anytime. Whatever it takes, we'll find a way.
https://www.haf.com/wp-content/uploads/2021/08/denzai-550-1.jpg
627
1200
Lizzi Skipper
https://www.haf.com/wp-content/uploads/2020/05/logo-horizon.png
Lizzi Skipper
2021-08-17 12:48:45
2021-08-17 17:21:39
Moving a 100-Ton Gearbox From Japan to South Korea