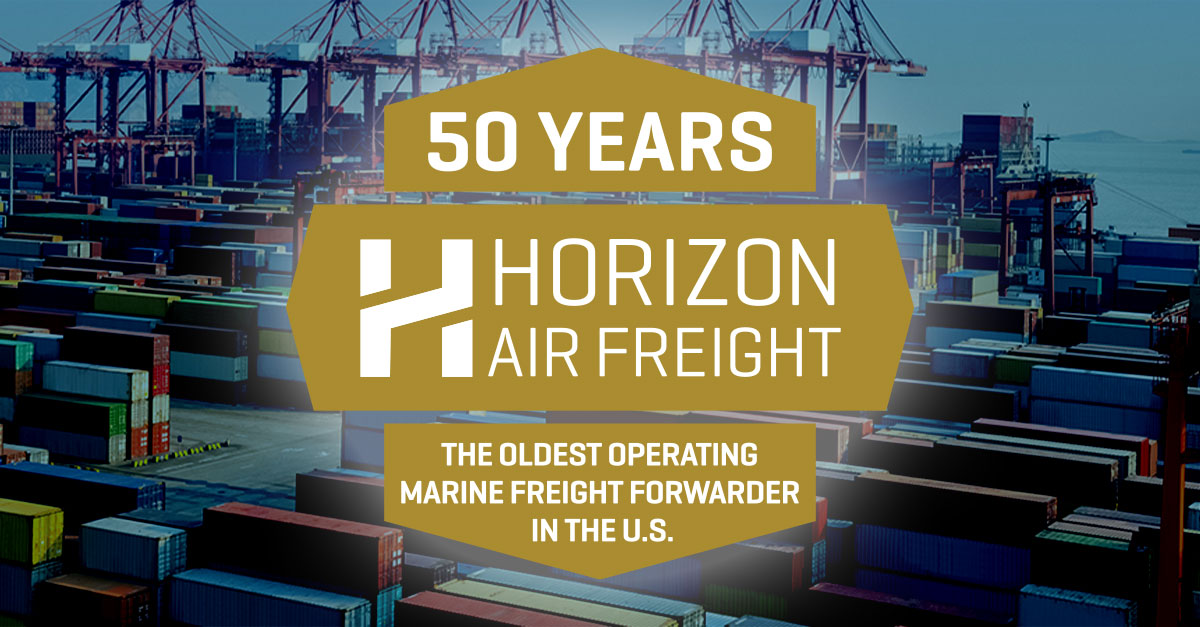 Horizon's First 50 Years: Part One
A look back at Horizon's first 50 years, and a vision of what the next 50 may hold for the shipping industry's gold standard for marine logistics.
Horizon Air Freight has thrived for 50 years due to its unyielding emphasis on innovation and growth, for the betterment of its clients. That continues today as the company focuses on its future, with goals that include expanding services into remote areas, partnering with and acquiring complementary companies to better serve its customers, developing even more products and services, and more.
In this, the first of three installments, we take a look back at how Horizon Air Freight has spent 50 years focused on its future.
A Delta 88 and a Typewriter: Horizon's Humble Beginnings
Anthony Leondis started Horizon Air Freight in 1970 as a one-man operation, run out of a closet-sized office near JFK airport and behind the wheel of his Oldsmobile Delta 88. He'd borrowed $600 from a friend to get started, and he drove to his customers with a manual typewriter to fill out their orders.
Leondis had immigrated to America from Sudan with his wife Agnese and their three children. (Their fourth child, Steve Leondis, was born in Brooklyn and is now Horizon's CEO.) Anthony, although born and raised in Sudan, was of Greek ancestry. His wife was from an Italian family but born in Libya. This international understanding of and perspective on the world would later inform Horizon's global approach.
When he first arrived in America, Anthony worked a series of blue collar jobs to support his family while his wife took a job at the post office. He loaded luggage for KLM and worked for a while with Overseas National Airways, a once storied international charter airline that liquidated in 1978 after the U.S. airline industry was deregulated.
It was demanding physical labor, but Anthony never minded hard work. And through the work, he learned firsthand how international air freight was managed. He began to see how his growing expertise could translate into a valuable service.
Anthony had made some connections to Greek shipping companies with affiliates in New York City. He reached out with an offer to handle air freight forwarding for their marine spares, supplies, and equipment. The shipping companies were impressed with the value he offered, and Horizon Air Freight was born.
Horizon Expands Into Full-Service Maritime Logistics
After about a year and a half during which Anthony ran the company on his own, Horizon grew enough that he had to hire help. He also expanded Horizon's services to provide more comprehensive maritime logistics support for customers.
Over the course of a few years, Horizon earned its FMC and NVOCC licenses, allowing the company to consolidate maritime cargo. Horizon also became a licensed U.S. Customs broker in order to expedite import and export clearances for customers.
This growing suite of capabilities allowed the company to provide shipping companies with full-service maritime logistics, both efficiently and reliably. Anthony's work ethic and expertise were also rapidly building Horizon's reputation as the freight forwarder that would always go above and beyond, doing whatever it took to get parts and supplies to ships, wherever in the world they were needed.
The Second Generation Joins the Company
Anthony Leondis' oldest son, John, joined Horizon in 1973 after graduating from Columbia University. His second son, Joseph, joined in 1977 after graduating from Harvard University. (Giving his children opportunities to get the best possible education was a key reason Anthony moved his family to America.) His daughter Irene later joined the company as controller.
Then in 1983, Anthony's youngest son, Steve, joined the company after graduating from Yale University. A star college basketball player — he was named Ivy League Rookie of the Year in 1980 — Steve had majored in history, with a particular interest in the period of European history between World War I and World War II.
Steve had worked for Horizon during summer vacations since he was a teenager: loading cargo in warehouses and driving trucks. But with all three of his siblings already working at Horizon, he considered striking out on his own after college. However, during his junior year, Anthony came and asked his son to work at Horizon for just one year.
"He told me, 'Hey, we could really use your help,'" remembers Steve. Knowing how hard his father had worked to put him and his siblings through college, Steve agreed to give it one year. "And now it's 2021, and I never left."
Tragically, Anthony Leondis died less than two years later, of stomach cancer, at the age of 58. His oldest son, John, initially took over as president, and in the years that followed all four siblings took on various leadership roles. The three older siblings have since retired from the company, while Steve remains as Horizon's CEO.
Horizon Builds a Global Network
"When I came to the business," says Steve. "I saw a lot of opportunities to expand our capabilities. The nature of shipping was expanding, and we needed to be forward-thinking."
As the world economy globalized, the shipping industry adapted to support it, and Horizon did the same.
"One of the most meaningful opportunities I saw was to develop our foreign agency network," says Steve. "A lot of our clients at that time were U.S.-based, but there was much more opportunity to serve their foreign base needs as their ships traveled the world."
So in his first few years with Horizon, Steve spent a lot of time traveling, establishing Horizon's foreign agency networks throughout Europe and Asia, and all around the world. He then approached Horizon's existing customers, offering to handle their marine logistics needs overseas.
"Today," says Steve, "65% of our revenue comes from foreign agency activity."
George Savich, who joined Horizon in 1988 as a messenger and is now the company's domestic manager, is emblematic of the can-do spirit that developed Horizon's reputation as the global marine logistics company that would always find a way.
When a customer wanted to show their gratitude after the purchase of a ship in the Tokyo shipyards, Savich purchased $150,000 of gifts on their behalf from Tiffany and Cartier. He boarded a passenger plane with the gifts and flew the same day to Tokyo. He turned around and flew back the next morning. "I had a softball game that day," he explains.
Another time, a Horizon customer needed to get boiler pipes to Ivory Coast through Paris. However, Air France workers were on strike. Horizon chartered a plane to carry the pipes, but there was no one working at the airport who could load them up. So Savich flew to Paris, where he met up with two Horizon partners from the UK, and the three of them spent the next three days loading planes. Reach out to us directly to let us know how we can use our collective history and experience to serve you best.
(The story continues in part two and part three.)
https://www.haf.com/wp-content/uploads/2021/02/horizon-air-freight-50-years-anniversary.jpg
627
1200
Lizzi Skipper
https://www.haf.com/wp-content/uploads/2020/05/logo-horizon.png
Lizzi Skipper
2021-02-25 18:52:16
2022-01-26 12:43:43
Horizon's First 50 Years: Part One