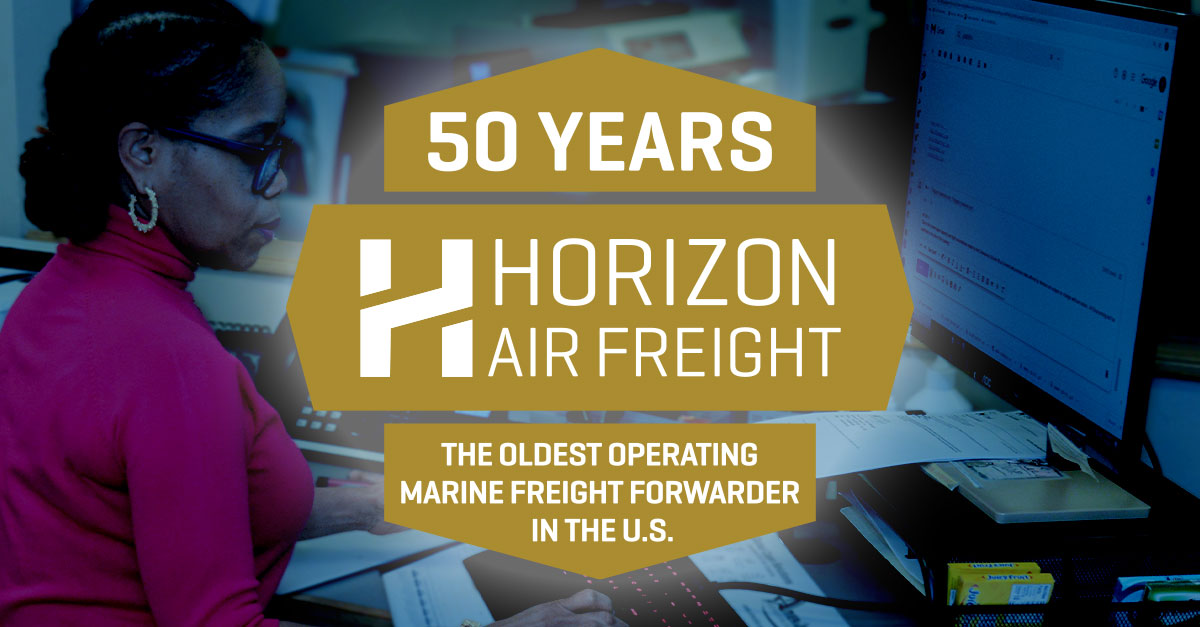 Horizon's First 50 Years: Part Three
A look back at Horizon's first 50 years, and a vision of what the next 50 may hold for the shipping industry's gold standard for marine logistics.
Horizon Air Freight has thrived for 50 years due to its unyielding emphasis on innovation and growth, for the betterment of its clients. That continues today as the company focuses on its future, with goals that include expanding services into remote areas, partnering with and acquiring complementary companies to better serve its customers, developing even more products and services, and more.
In this, the third of three installments, we take a look back at how Horizon Air Freight has spent 50 years focused on its future. (Read part one here, and part two here.)
A Third Generation Joins Horizon
The people of Horizon tend to stick with the company for decades; there's not a lot of turnover. But with ambitious plans for growth and an eye to the company's future, Horizon has been hiring a new generation of employees.
Among the new hires is Alex Leondis, Steve's son and the third generation of the family to work in the business. He came to work full-time with Horizon with a degree in economics from Harvard University and about three years working for investment bank Morgan Stanley. Like his father before him, Alex showed leadership at an early age by starting all four years as a defensive back for Harvard's men's soccer team, with an honorable mention for the All-Ivy League Team.
Alex has learned the ropes in the warehouses and on the trucks, and he is now working as Horizon's business analyst.
"I liked Morgan Stanley, didn't love it, and I was looking for a change," says Alex. Around that time, his father told him that Horizon had raised substantial capital from an investment group and was poised for dramatic growth over the next few years. It was a good opportunity for someone with Alex's analytical and financial skills to join and be part of a strategic growth initiative.
"His skillset is to help us analyze our business and drive value, look to increase EBITDA, examine things we're doing, and help make changes," says Steve of his son. "He's working directly under our new CFO, Dave Rector. It's been a pleasure having him here."
"We've always had an extremely close relationship," says Alex. "I never thought I'd be here working with him, but I really enjoy it. He's obviously the best guy here, if I have any questions about the business. But it's also just rewarding to see where he's been putting in all this really, really hard work for the past 35 years, and to want to do the same."
Recruiting from the U.S. Merchant Marines
Many of the other new hires are graduates of the U.S. Merchant Marine Academy, located in Kings Point on Long Island, not far from Horizon's global headquarters
"We've seen the value of hiring these young cadets when they graduate," says Steve Leondis, "tremendous speed ramping up to understand our business. When we hire someone who understands the maritime industry, understands ships, then learning pure logistics is very easy for them. So we're developing this young talent which we think is the future of the business."
"When they come on board, they already understand the importance of what we do," says Alex Leondis. "Most of them have been on a ship. They know what it's like when a ship doesn't have that part that it so desperately requires. So when you tell one of them, 'Hey, this shim, it needs to be in Dubai by the first,' they know better than anybody why it needs to be there."
"They're very bright young adults and great assets to have, though there is a generation gap," says George Savich, laughing. "I had to explain to them what a fax machine was."
Ambitious Growth Goals
With the investment capital secured in 2019, Horizon is now pursuing aggressive plans for growth, with a goal of tripling revenue over the next few years.
"We're going to be expanding our last mile services," says Alex Durante, "handling customs clearance and onboard delivery into many more ports of call. We'll be expanding into many more remote areas and areas that are troublesome for a lot of ship owners."
"Acquisitions are my primary focus," says Steve Leondis, "acquiring other logistic companies that will complement Horizon or allow us to include services that we currently don't offer our customers."
"I'm working on and thinking about new product development and services," says Alex Leondis. "We'll also continue to make our client transparency even better. There's plenty of opportunity, and I think Horizon has an extremely optimistic story to tell in the next three to ten years."
Staying True to Their Founder's Spirit
Horizon is pursuing those goals headquartered in the same building where Anthony Leondis founded the company 50 years ago, though they own the whole building now and have a reach that spans the globe. Even as they grow, they're staying true to their founder's spirit.
"I'm proud of the culture at Horizon," says Alex Durante. "We all feel like we're one big family. I'm proud that our people understand the industry, understand the consequences if the job doesn't get done, and don't want to let our customers down. If there is ever a problem, when we call our clients to notify them, we also already have a solution."
"I'm proud that we've provided a steady job for scores of families," says Steve Leondis. "People who have been here 20 to 40 years, they thank me for helping them afford a house. They've raised their families, with this business as a consistent provider for them. We've navigated many crises over the years, the current pandemic included, and we kept on providing, held on to those people who have been with us all these years."
A big picture of Anthony Leondis hangs on the wall of the Horizon conference room. Alex Leondis looks at it as he reflects on his grandfather's legacy. "It is incredible thinking I'm working in the place where he started out 50 years ago. Unfortunately, I never got to meet him, but I've asked my dad a lot. I've heard how hardworking he was, how straightforward, how he came to this country and was all about hard work and doing the right thing."
"I'm excited for what's to come," continues Alex. "I joined at a time when we have an extremely interesting opportunity. It's up to us and how far we could push it, and that's the best part of it. The sky's the limit for Horizon." Reach out to us directly to let us know how we can use our collective history and experience to serve you best.
https://www.haf.com/wp-content/uploads/2021/02/horizon-air-freight-50-years-anniversary-3.jpg
627
1200
Lizzi Skipper
https://www.haf.com/wp-content/uploads/2020/05/logo-horizon.png
Lizzi Skipper
2021-02-25 18:58:21
2022-01-26 12:29:22
Horizon's First 50 Years: Part Three