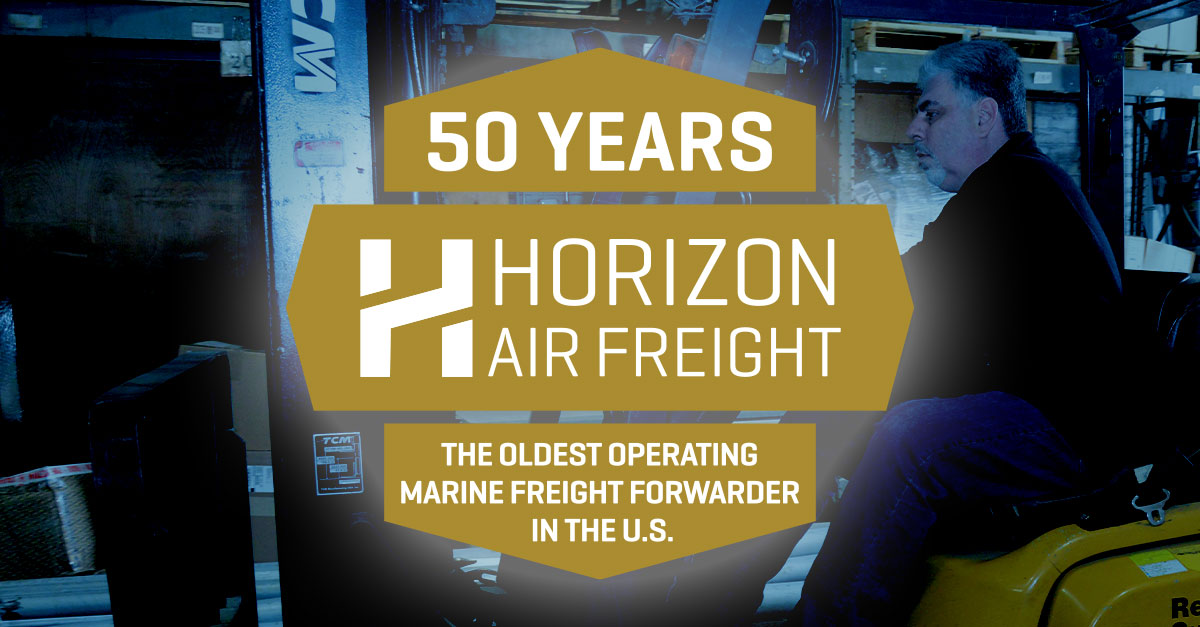 Horizon's First 50 Years: Part Two
A look back at Horizon's first 50 years, and a vision of what the next 50 may hold for the shipping industry's gold standard for marine logistics.
Horizon Air Freight has thrived for 50 years due to its unyielding emphasis on innovation and growth, for the betterment of its clients. That continues today as the company focuses on its future, with goals that include expanding services into remote areas, partnering with and acquiring complementary companies to better serve its customers, developing even more products and services, and more.
In this, the second of three installments, we take a look back at how Horizon Air Freight has spent 50 years focused on its future. (Read part one here, and part three here.)
Investing in Technology for Global Connection and Customer Transparency
The same forward-thinking mindset that first inspired Horizon's global approach to marine logistics has also kept the company at the forefront of technology.
Horizon's global reach depends on communications and information technologies. Anthony Leondis' manual typewriter and his Delta 88 worked fine when all Horizon's customers were located within a few miles of JFK airport, but coordinating customer needs from Seattle to Singapore required something more.
"We didn't even have computers when I started working here," says Rosemarie Susino, who joined Horizon in 1984 as a part-time receptionist and is now one of the company's executive vice presidents. "Back then everything was manual. We would write shipping labels by hand. Now everything's computer automated."
Throughout its history, Horizon has been an early adopter and innovator of technology that gave customers superior visibility and transparency into the live status of their purchase orders and door-to-deck deliveries. Where other freight forwarders often left their customers in the dark, Horizon has sought always to shine a light.
Horizon WorldTrack, Horizon's proprietary customer portal, empowers customers to track the live status of all their shipments, from the time they issue purchase orders to their vendors, up to final delivery to the vessel. In addition, Horizon's unique portal provides an in-depth, statistical analysis of many different areas of the business such as vendor compliance, on-demand financial and performance reporting, inventory controls, and recommendations for potential cost reductions. It's a unique, value-added service to customers who work with Horizon. The company continues to invest in new features and innovations, all driven by customer requests as well as Horizon's commitment to distinguish themselves as an industry leader.
"Technology has taken us from the telex machine to the fax machine to email and EDI," says James Gassert, who joined Horizon in 1982 as an export coordinator and is now an executive vice-president. "Long gone are the days of critical information and know-how residing with a limited number of resources. Now we benefit greatly from a shared platform that allows our global team to address any need at any time, anywhere in the world."
As Steve Leondis pursues ambitious goals for Horizon's future growth, he continues to invest in technology as a key supporter of that growth. He also recently hired the company's first director of technology.
"We're reinvesting to improve our systems and investing in new technology," Steve says. "There are a lot of off-the-shelf cargo programs, but that doesn't really work for us because we respond to customers' needs so quickly. So we're developing Horizon 2.0, positioning this business to handle three times the volume over the next three to four years."
Supporting Desert Storm Through Military Sealift Command
Founded by an immigrant, Horizon played a crucial role in supporting U.S. national security during the Gulf War of 1990-91. Operation Desert Shield, and, later, Operation Desert Storm, required a massive mobilization of military equipment and supplies to Saudi Arabia.
A Business Week story at the time described the Gulf War as "the largest military logistics operation in history." (The story is told at length in the book Moving Mountains: Lessons in Leadership and Logistics from the Gulf War.)
Much of this historic operation fell to Military Sealift Command, which currently operates approximately 125 civilian-crewed ships that move, pre-position, and replenish military cargo used by deployed U.S. Armed Forces and coalition partners. During the Gulf War, Horizon became a critical partner to Military Sealift Command, providing the marine logistics support they needed to keep their ships running and supplied.
It's a relationship of trust that continues to this day, with Horizon helping ensure that Military Sealift Command's vessels are always fully operational and ready to respond to the military's time-sensitive demands.
Strategic Growth Brings New Industries and Facilities
Horizon started out supporting ocean freight shipping companies, later adding military support to the mix. As the company grew, they gradually expanded to take on other sectors of the maritime industry, including tankers, cruise lines, fishing vessels, research vessels, offshore rigs, and even shipyards. To better serve a growing number of clients in the Gulf of Mexico, Horizon also opened a new facility in Houston, now the company's second-largest.
Alex Durante joined Horizon in 2007 and now serves as the company's global sales director. He was instrumental in opening up several new sectors, including automobile shipping, cruise ships, and, in response to the global COVID-19 pandemic, PPE supplies.
Durante saw an opportunity to enter the cruise industry when Horizon handled some emergency overnight deliveries from Germany to the Bahamas to keep a major cruise ship overhaul on schedule. The supplier knew Horizon due to previous urgent shipments the company had handled for them. They recommended Horizon to the cruise line as the forwarder who could get the parts there on-time.
The same cruise line's logistics department then asked Durante if Horizon could help with their food deliveries. Horizon put together an arrangement with a refrigerated and frozen warehouse in California, then set up weekly consolidated delivery schedules of food and beverages from various West Coast vendors. More than three years later, Horizon is still shipping 7,000-10,000 pounds of food via air for them each week.
That initial opportunity led Horizon to launch its cruise ship division, with a dedicated team and facilities, including new state-of-the-art refrigerated and frozen warehouse facilities in Miami and L.A. Horizon is now shipping food to cruise ships all over the world: millions of pounds of it each year. That eventually led to keeping cruise ships supplied with everything else they needed, from engine parts to watches and pearl necklaces for their onboard jewelry stores. Reach out to us directly to let us know how we can use our collective history and experience to serve you best.
(The story continues in part three.)
https://www.haf.com/wp-content/uploads/2021/02/horizon-air-freight-50-years-anniversary-2.jpg
627
1200
Lizzi Skipper
https://www.haf.com/wp-content/uploads/2020/05/logo-horizon.png
Lizzi Skipper
2021-02-25 18:55:58
2022-01-26 12:32:50
Horizon's First 50 Years: Part Two