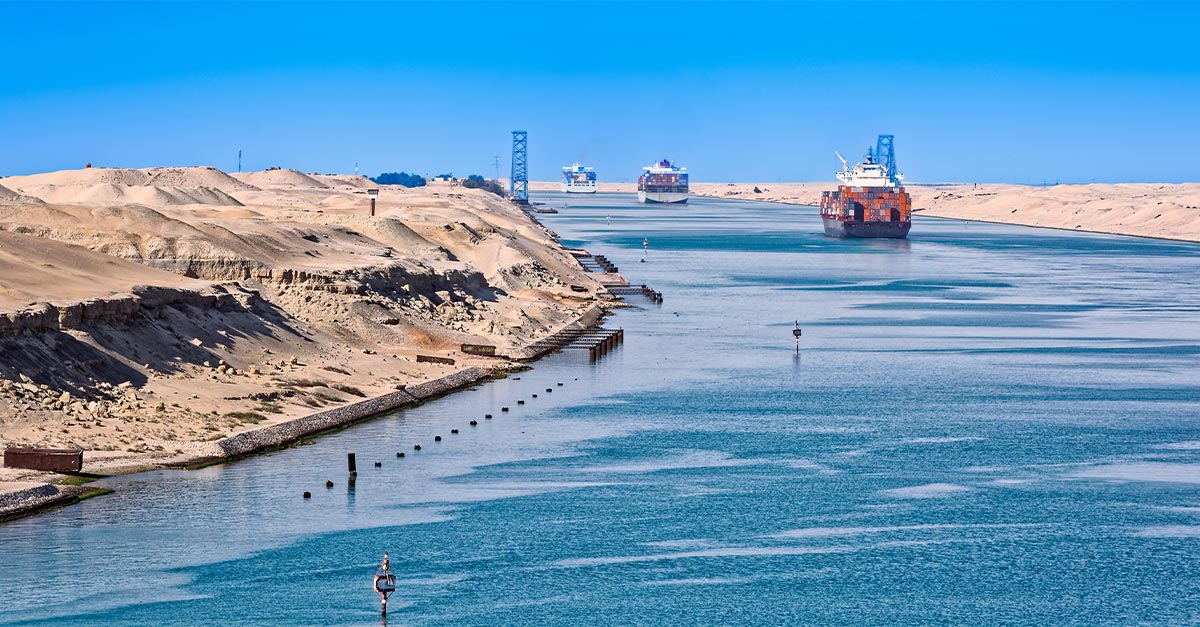 Steve Leondis, CEO of Horizon Air Freight
As I write this, there's some great news coming out from the Suez Canal.
The container ship Ever Given ran aground on March 23 during a storm, completely blocking passage through the Suez Canal. For nearly a week, two salvage teams have attempted to dislodge the ship, with CNBC reporting that the blockage is delaying $400 million an hour in trade.
Earlier today, the Suez Canal Authority announced that the Ever Given had been partially refloated and its course corrected by 80%. Then, just moments ago, the Associated Press reported that the ship had been completely set free by a "flotilla of tugboats" which are now pulling the ship toward the Great Bitter Lake.
We don't yet know with certainty when the Suez Canal will reopen, but this news gives us hope that it will be very soon. Nevertheless, a backlog of about 300 ships is presently waiting in or near the canal. As Maersk said in a statement earlier this morning, even if the canal reopens today, it could take a week to clear the queue.
At Horizon, we're not in the salvage business, so we couldn't do anything to free the Ever Given any faster. But for the past week we've been monitoring the situation 24/7 and helping our customers keep sailing safely while adjusting to the delays.
We're fortunate to have several graduates of the Merchant Marine Academy working at Horizon. They have classmates sailing on U.S.-flagged ships in the canal, and through them we've been receiving on-the-scene updates as the situation develops.
Three of our customers have seven ships currently delayed by the Suez closing, and we've been in regular contact with all of them. Many had plans to pick up spares for scheduled maintenance at major equipment supply hubs such as Rotterdam. With their ships delayed, chief engineers have been monitoring engine hours, concerned they won't reach their planned supply ports in time.
Some ships have been waiting out the delay, while others turned around, exited the canal, and headed south for the Cape of Good Hope. For those still waiting, we've rerouted and expedited their spares to Port Said, Egypt, for delivery just as soon as they exit the canal into the Mediterranean. For those heading south, we've rerouted and expedited to Durban, South Africa.
With delays of this scale, we're also anticipating longer-term ripple effects across the global shipping fleet that could delay the shipment by seafreight of critical spares. We expect to reroute many of these spares via airfreight to get them on time to the ships that need them to keep sailing safely.
We know this has been a challenging time for many shipping companies, with this crisis costing you dearly for each day your ships are off-hire. Please know that we're here for you and ready to do whatever it takes to support you in this critical time.
For fifty years, we've been helping our customers recover from vessel delays, engine failures, failed Coast Guard inspections, and anything else that might delay a vessel sail. Not a week goes by without us leaping into action to help keep a vessel on charter schedule.
Whatever you're struggling with, during this difficult time or any time, please contact us directly to let us know how we can help.
https://www.haf.com/wp-content/uploads/2021/03/ships-suez-canal.jpg
627
1200
Christine Mahin
https://www.haf.com/wp-content/uploads/2020/05/logo-horizon.png
Christine Mahin
2021-03-28 12:38:10
2022-01-26 12:12:36
Suez Canal Statement