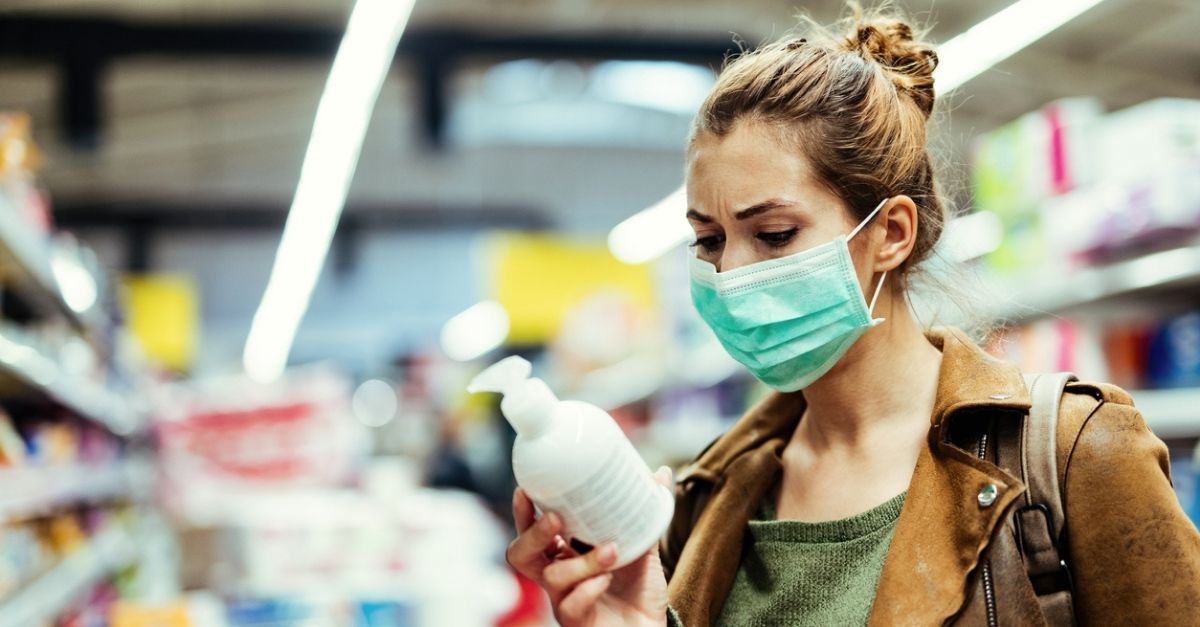 How That New Brand of Hand Sanitizer Traveled to Your Hands
Walking down the cleaning products aisle of your local grocery store, or in the personal protective equipment (PPE) section of your pharmacy, you might have noticed some new arrivals these past few months: unfamiliar brands of hand sanitizer, disinfectant sprays and wipes, masks, gloves, face shields, and all the other products we need most to prevent the spread of COVID-19. Most of them traveled halfway around the world to get there, and Horizon Air Freight helped many of them make the trip.
In the initial weeks of the coronavirus pandemic, many shelves were emptied of all those cleaning products, personal protective equipment, and other critical supplies for protecting us from infectious diseases. The major manufacturers — Lysol, Clorox, Purell, and all the other household names — simply couldn't keep up with the radically increased demand created by the pandemic. The problem was exacerbated by the impact of emergency border closings on the global supply chain, which grounded many planes and strained the capacity of the global commercial shipping fleet.
Much of the available supply was diverted to healthcare facilities. Consumers were left to make do with their existing supplies or homemade alternatives.
Increased Demand in Commercial Shipping Leads to a Broader Mission
Here at Horizon, our first direct experience of the increased demand came from our commercial shipping clients, who have all been placing large, urgent orders for supplies to keep their crews safe. As we discussed in a recent post about the cruise ship industry, we even shipped thousands of pounds of PPE to a shipyard to protect the workers renovating a cruise ship in dry dock.
There are complexities to shipping disinfectants and hand sanitizers, some of which are classified as hazardous materials, but it's well within our expertise. Throughout the pandemic, our clients have turned to us to get the protective supplies they need, where they need them, with all possible haste.
The surge in demand from our shipping clients prompted Alex Durante, Horizon's director of global sales, to wonder who else might be struggling to get these critical supplies to where they were needed most. "If my clients' ships are buying this," he thought, "there's got to be a whole lot of other people buying this too."
Durante reached out to U.S. distributors who were trying to bring large shipments of protective supplies into the country as quickly as possible to restock the shelves at grocery stores and pharmacies. Many were working with smaller manufacturers in China and the Philippines. These were distributors who had previously been mostly shut out of the U.S. and other global markets by the dominance of the major brands. Now, with the pandemic creating historic demand, these smaller players had dual opportunities to open up new markets for their businesses while helping to slow the spread of disease.
Horizon stepped in as a logistics partner, helping expedite the protective supplies produced by these smaller manufacturers to the distributors who could get them on the shelves for U.S. consumers.
The Hunt for Sanitizers, Gloves, and Dispensers Never Sleeps
Shipping disinfecting products and PPEs was soon a 24/7 operation at Horizon. "Due to the time difference between Asia and the U.S., we're working with the manufacturers in China and the Philippines at night," says Durante. "And by day, we're coordinating with our U.S. distributors."
Many of these products are regulated by the FDA, so licenses must be in place and all documents in order prior to shipping. When the shipments touch down on U.S. soil, U.S. Customs often has a lot of questions. Logistics partners not experienced in importing such products can incur long and costly delays.
Sometimes we're shipping small samples so that distributors can test these products and verify their safety and efficacy. Other days, we're booking 15 containers full of supplies as swiftly and cost effectively as possible.
This takes a lot of proactive scheduling. Because the demand is so great and the shipping lanes so full, we don't wait for an order to be ready. We're booking space on ships weeks in advance, coordinating with manufacturers to know when their shipments will be available so there is always a steady stream of products loading, shipping and delivering.
One recent shipment included 95,000 pounds of disinfectant sprays in two containers. We've handled over a dozen such shipments in recent weeks.
Some of the most urgent supplies, we fly in. We recently flew in four multi-ton shipments of sanitary wipe dispensers, of the sort you've probably seen at the entrances to offices, apartment buildings, doctor's offices, and stores.
Keeping the Economy in Motion
With an effective and widely distributed vaccine still, at best, many months away, the demand for all these cleaning supplies and PPEs likely won't recede anytime soon. "This is going to be the way of life for the foreseeable future," says Durante.
Before the present crisis, many of us took these products for granted. Hand sanitizer, disinfecting sprays, and all the rest were readily available, a familiar and useful commodity to which we rarely gave much thought. Today, in the midst of the pandemic, we all see how critical they are for healthcare workers saving lives, for families trying to stay healthy, and for everyone trying to keep the world economy in motion.
At Horizon, keeping the world in motion is what we do best, and we'll keep doing our part for as long as the need continues. Reach out to us directly to learn more about how we can help you.
https://www.haf.com/wp-content/uploads/2020/09/new-brand-of-hand-sanitizer-blog-photo.jpg
627
1200
Lizzi Skipper
https://www.haf.com/wp-content/uploads/2020/05/logo-horizon.png
Lizzi Skipper
2020-09-25 10:43:52
2022-01-26 12:48:11
How That New Brand of Hand Sanitizer Traveled to Your Hands